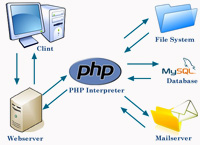 PHP the Hypertext Preprocessor is one of the immensely used scripting languages. A more clear statement about it says that PHP is a programming language or more accurately it is a reflective programming language. PHP is broadly used scripting language. PHP is most constructively used for web development and for creating dynamic WebPages. PHP language is set into HTML pages.
Why PHP?
Attuned with various Interfaces
The higher popularity of PHP is ingrained in its easy accessibility as it can be used in various kinds of interfaces and operating systems. PHP can be used in those web technologies where the request of user is carried out by administrating a script straight on web server to engender dynamic HTML pages. This type of web technology is called "server side scripting". PHP is also usable in independent graphical applications. At the same time PHP can be also used in the methods where operating system is by a command line interpreter. Additionally PHP is compatible with text user interfaces.
User-Friendliness
Unlike other languages PHP user doesn't need to write incalculable commands to produce HTML. It is quiet simpler to work with PHP. One just needs to write a HTML script followed by embedded codes. These codes act as instruction to do a particular thing. Above all this, PHP codes are hem in special tags to START and END, which facilitate the user for quick switch-on/off with PHP mode. The web servers can be easily configured to process any and every file with PHP. PHP is so user-affable that a novice can also work with this without any complications.
Accustomed to impromptu technologies
Along with widest compatibility and easy use, PHP present up-to-the-minute features. The regular up gradations and modified versions of PHP has made it choicest language. PHP is the first choice of professional programmers.
Time Saving
Due to its user-friendliness it is much easier to work with PHP. While working with PHP there is no need to write immeasurable commands which saves the time. PHP users can write the scripts just in few hours. PHP is undoubtedly the most popular is programming language since it can be used to make projects ranging from small projects, ecommerce websites and portals to web-based software. All above advantages of PHP web development gets more assurance if it is carried out by Anjuinfotech, one of the pioneers in PHP web development. Right from emergence of PHP language in India to its latest version 5.2.4 (launched on 30th August 07), Anjuinfotech has consistently worked with it and kept an eagle-eye on its global advancements as well. Backed by amplified experience, innovative vision and a diligent team of PHP developers and programmers Anjuinfotech has left the competition miles behind.