If you are looking for a shopping cart for your online store, you have probably seen Zen Cart shopping cart mentioned many times. And now, you're probably asking yourself: What is Zen Cart? Is it the right choice for my store? Is it easy or hard to learn – and can I learn it on my own or will I need a class? How can I find out more about it?
Let's start with the basics.
What is Zen Cart?
Zen Cart is a full-featured shopping cart for online stores. It is open source software, which means it is not proprietary.
You can use it right out-of-the-box, but it's not likely to meet your needs without a few tweaks – not to mention that you probably won't like the out-of-the-box design. It's a bit cluttered to say the least (see image below). This is what Zen Cart shopping cart software looks like right out-of-the-box, before you have a custom design created for a more desireable "look and feel" for your store.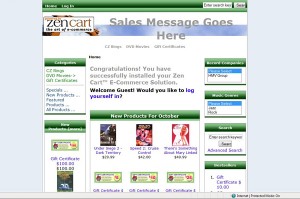 Zen Cart can be customized in many ways including:
Zen Cart has many, many great features out of the box and with a wide range of modules from which to choose, you can add even more functionality to your store, many of which will help you to increase your productivity, too. One example is the module that allows you to use an Excel spreadsheet to upload your products all at once rather than manually, one at a time. This can be a huge time-saver, even in a small store.
Another example is the module that gives you the ability to have different levels of administrators so that you can control "who" can see "what" in your admin panel. This is very helpful when you have employees helping with, say, adding new products, but you don't want them to see sales figures.
The Zen Cart shopping cart software is not hard to learn and it can be fun and exciting to learn how to use it as you set-up your store. It's PCI Compliant and it's a good solution for people who want a full-featured store with lots of options for how products and information are shown to customers, that offers an admin panel to easily manage your products, customers and orders, and with an easy checkout process for customers.